Carnivore Bar Ammo Box, 50 Bar Box
The Ammo Box is perfect for the hardcore Carnivore Bar enthusiast looking for enough bars to last on long adventures and for long-term storage.  *Due to high demand, all Ammo Boxes take about 1 week to fulfill*
Perfect for: meat lovers, keto carnivores, ancestral eaters, and everyone in-between
50 Carnivore Bars of your choice: salted, unsalted, zesty garlic, honey salted, honey unsalted, or honey bbq
Military style ammo can with water-tight seal
Cotton-poly blend Carnivore Bar Food Pyramid shirt ranging in sizes xs - xxxl
Carnivore Bar Bandana
Military discount available - Verify with SheerID to instantly unlock your savings
Currently only available in USA.
If you're unsatisfied with your purchase, we'd be happy to offer you a full refund. Please
contact us
for details on how to complete the return and more on the refund process.
| | |
| --- | --- |
| The Carnivore Bar | Comparable Travel Bars |
| Unique composition: modern-day version of pemmican | Typical protein bars or jerky-style snacks |
| High fat, high protein, full meal replacement bars with 400 calories | High protein, on-the-go snack options, lacking enough fat to be satiating enough to replace a full meal, usually between 100 to 200 calories |
| Lasts a lifetime*, WITHOUT fillers and preservatives (non-GMO and GF); ideal for emergencies or long-term reserves | May only last up to one year, and almost always has fillers, preservatives, or inflammatory spices and herbs |
| Shelf stable and portable, compact enough to take on any trip, including air travel | Also shelf stable and portable, must carry higher quantity for same amount of calories as a Carnivore Bar |
| Creamy and crunchy in texture, and comes in 3 zero carb options as well as honey/animal-based variations | May be chewy and tough, due to the lean nature of high protein snacks, and come in a variety of options |
| American sourced grass-fed, grass-finished beef, sourced from regenerative ranch, Joyce Farms | Often not grass-finished, uses an inferior protein source, or beef sourced from across the world to get to you |
| Provides travel freedom and autonomy for true carnivores, ancestral eaters, and every carnivore-adjacent community without compromise | Not ideal for carnivores with strict dietary needs, or individuals in other health conscious communities |
| Unparalleled flavored beef sourced from Joyce Farms, who uses genetics and regenerative ranching practices to create a unrivaled flavor originally developed for east coast high-end restaurants | Good ecology doesn't mean good eating - it's an unfortunate fact that most grass-finished beef has a distinctly gamey flavor that isn't the most palatable |

*The Carnivore Bar has a theoretically indefinite shelf-life, and we are on our way to proving 25 years.
carnivore bar community reviews
I love The Carnivore Bar because it's the perfect ratio of fat and meat on-the-go. Most jerkies and packaged meats have little fat and a lot of additives. The Carnivore Bar has been a main staple in my diet and the only reason I recommend the bars to my community. It's a savory and crunchy snack or small meal without giving up on quality.
carnivore bar community reviews
The Carnivore Bar is one of the most nutritious, simple, clean-ingredient bars I've ever seen. I read A LOT of ingredients labels, I'm always trying to find a healthy snack, (especially when traveling) and The Carnivore Bar's ingredients label is 10/10 perfect. I prefer the honey salted Carnivore Bar which is a great combo of savory & sweet. This is a great bar for traveling, snacking, and for a meal-on-the-go!
carnivore bar community reviews
I'm a highly competitive athlete who competes in elite Obstacle Course racing, high intensity strength training, and running. I take on lots of crazy challenges as well, like breaking the Guinness World Record for the Most Chest to Ground Burpees (1 hour for females). Being a high-level athlete, it's crucial to have good digestion and well sourced ingredients in order to perform well. It's important to me to not have anything that will sit too long and heavy in my stomach (especially with burpees and running).
When I'm out traveling for races and competitions, sometimes bringing cooked meat can be tricky. Having The Carnivore Bar saves me huge during those times, especially since its shelf stable. It not only saves me time but saves me from all the mental stress of having to prepare meals. I love the crunchiness of the bars and they really are unlike anything I've ever tasted.
I'm super proud to represent a brand that shares a passion for regenerative agriculture, high-quality, and nutrient dense food. The bars are simple, yet so effective.
carnivore bar community reviews
The Carnivore Bar is such a treat! It's wonderful to have a nutrient-dense snack to grab when I'm in a hurry or if I'm in a situation where I don't have access to a fridge, like on hikes, a long day out and about, or during airplane rides. I prefer them fresh out of the fridge, but it's amazing l that they can be consumed at room temperature too. I love being able to eat meat without having to worry about refrigeration. My personal favorites are the salted bar and the honey bar. I'd recommend the salted bar if you're purely looking for nutrients/fuel and want to stay away from sugar. I'd recommend the honey bar if you want something a little sweeter. The sweetness from the honey was not too overpowering…just enough to enhance the flavor of the beef. The first day I had a honey bar, I actually woke up the next morning and craved another first thing! If you're looking for a yummy, nutrient-dense, shelf-stable snack, I'd highly recommend giving The Carnivore Bar a try.
Customer Reviews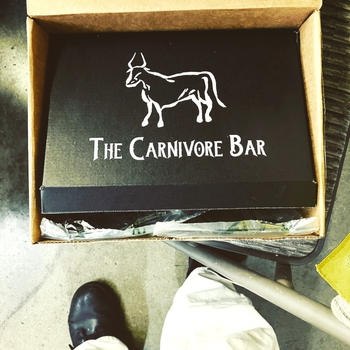 07 Aug 2023
plain salted version is my go to
The consistency at first caught me off guard and now I keep a stock on hand for travel, a quick breakfast, in my pack when hiking or dirt bike riding, I also have tried the honey version and it is good as well. My favorite part is I know what I am feeding my body, grass fed beef, salt and water. Always feel great with this bar.
Laura D.

United States
18 Oct 2022
Love the crunch
These are addictive! Salt, crunch… yum
Yasmin A.

United States
26 Sep 2022
WARNING: Might be too good to last
I was very excited when I got my first ammo box. I had been buying the regular 12 bars, salted and grass finished. It was usually gone in about 3 days, unfortunately. But they are SO GOOD. I let some friends try them, and it was hit or miss. Some didnt like the salt content, and others were put off by the texture (weenies.) I however, having been a hypercarnivore for 3 years, couldnt get enough. I would like to be able to put a few ammo boxes away for a real emergency, but I cant resist having more than I planned to eat on any given day. Its the best pemmican bar on the market, and I love them. The company is great with customer service, and have truly cornered the market on this long forgotten staple of american cuisine. You dont need rations with a bunch of preservatives that weigh you down, with these. 4 bars per day is enough to meet the calorie needs of most people. I hope one day they add powdered liver as an optional ingredient to the bars, because it truly would be the perfect food. These folks work hard, and in a world where people are trying to get you to EAT BUGS, the carnivore bar is a food item you cant pass up. Please, consider supporting these fine folks by trying a sampler, and keep them in business. they support farmers responsibly and sustainably raising their beef, and that is costly and difficult in and of itself. Buying carnivore bars means keeping the american dream alive, you wont regret it.
Casey C.

United States
21 Aug 2022
So yummy and satisfying!
This bar is incredible! The taste and texture is perfect. I am so excited I found this product. This bar is perfect for traveling. It is also very filling by itself or is perfect paired with a piece of fruit. I'm seriously addicted.
Rachel N.

United States
12 Aug 2022
Carnivore Bar Ammo Box
LOVE IT!!!
Paul S.

United States